Last Saturday was QUITE warm so Brent and I packed up the kids and headed to Temple Square so they could enjoy the lights in this warm weather. :)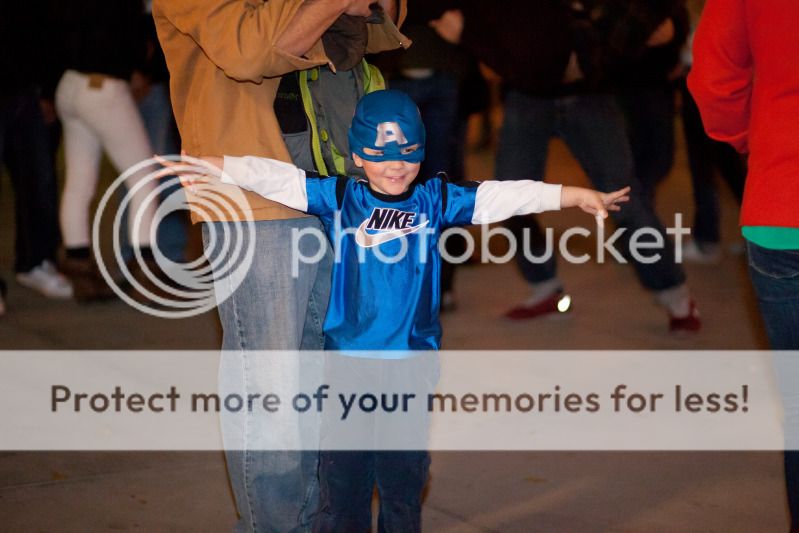 Griz wore his captain america costume but he isn't great about keeping the mask on. When Chico put it on at one point Griz apparently didn't like that:
He actually really was happy for the majority of the time we were there. In fact more than happy, he was hyper! This next picture shows them playing in the fountain. They were laying on their tummies playing in the water. They were zinging around so fast that I was worried one of them was going to go face first into the water.
They were especially hyper in the pink section by the assembly hall. It was funny to watch them zinging around.
I was taking the cute picture of Chico and Brent (above) when all the sudden through the camera I saw Griz running through the pansies behind them!!!
I put down the camera and tried to grab him out of there without going into the garden myself. It was hard getting him to come to me or even hold still until he got STUCK in one of light displays! Oh boy! Brent said that when people were watching this transpire they didn't comment on him being a naughty toddler or comment on him treading on the flowers or anything they just were like, "It's Captain America!" He was a bit of a celebrity that night. Everyone was commenting on his uniform and he totally loved the attention. A lady even gave him two pennies, lol. He would go up to people and stick out his chest and say, "Ma hm hm" Gotta love our outgoing cutie pie.